Donate for x737project using Bitcoins
22. October 2017
x737 project is free for everybody. However donations for our project are much appreciated and help us to keep up our project for many more years!
Thank you for helping x737project to get better and better!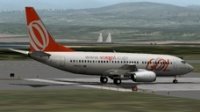 Donate for the x737 project!
Your help is greatly appreciated!
5. January 2009 We are spending a lot of time for our free 737 aircraft, and we love your feedback. If you enjoy our project and have fun flying the Boeing 737NG on X-Plane feel free to make a donation. This will help us to pay the bills for all the things we need to develop and distribute our project, and of course it will keep up our motivation to keep up the work on the aircraft.
To make a donation, click on the button below and follow the instructions.
Many thanks for supporting the x737 project!